Gujarat Election 2022 party wise results: The elections in Gujarat were held in two phases. In the first phase held on December 9, 68 per cent of voters exercised their franchise; the second phase held on December 14 saw a voter turnout of 69 per cent.
Gujarat Election 2022
The Bharatiya Janata Party (BJP) retained power in Gujarat for the sixth consecutive term as they won a clear majority in the 2022 state assembly elections. However, unlike what BJP president Amit Shah had predicted, they were not able to win 150 seats and were given a tough fight by the Congress.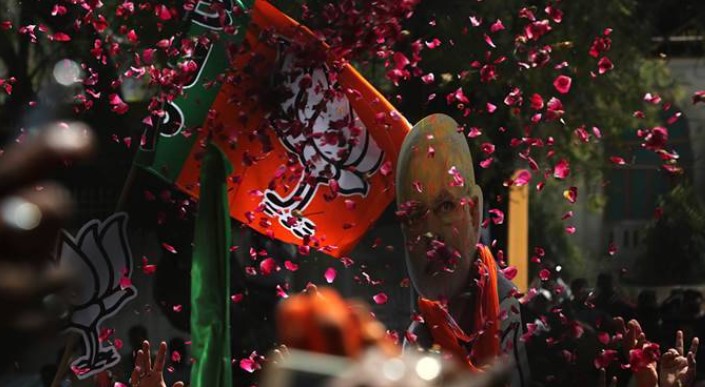 Out of 182 assembly seats, BJP bagged 99, Congress won 77 and others won seven seats. BJP's vote share in the state increased from 47.9 per cent (2012) to 49.1 per cent. Though, it is a huge comedown if we compare it with the 59.1 per cent share it got in the 2014 Lok Sabha polls.
On the other hand, the Rahul Gandhi-led party improved its performance and its vote share got increased from 38.9 per cent (2012) to 41.4 per cent.
The polls in the state were held in two phases. In the first phase held on December 9, 68 per cent of voters exercised their franchise; the second phase held on December 14 saw a voter turnout of 69 per cent.
Full list of winners in Gujarat elections 2017 below:
Congress' Indrajitsinh Parmar wins Mahoda seat against BJP's Bharatsinh Parmar.
BJP's Makwana Chondabhai wins Mahuva seat against independent candidate Kanubhai Kalsaria.
Congress' Vaja Kalabhai wins Mangrol seat against BJP's Kargatiya Lakhabhai.
BJP's Vasabhai Vestabhai wins Mangrol (ST) seat against Congress' Vasava Nandariabhai.
BJP's Suresh Patel wins Maninagar seat against Congress' Brahmbhatt Narendrabhai.
Congress' Parmar Dhirsinh wins Borsad seat against BJP's Ramanbhai Solanki.
Congress' Panada Parsingbhai wins Dahod (ST) seat against BJP's Kishori Bachubhai.
BJP's Arvind Patel wins Dharampur seat against Congress' Ishvarbhai Patel.
Congress' Sanjaybhai Solanki wins Jambasur seat against BJP's Chhatrasinhji Mor.
Congress' Imran Khedawala wins Jamalpur-Khadia seat against BJP's Bhusan Bhatt.
Bhartiya Tribal Party's Vasava Amarsinh wins Jhagadia seat against BJPs' Ravjibhai Vasava.
Congress' Katara Babubhai wins Jhalod seat against BJP's Bhuriya Somjibhai.
Congress' Joshi Galabhai wins Junagadh seat against BJP's Mashru Liladharbhai.
Congress's Baldevji Thakor wins Kalol seat against BJP's Dr. Atulbhai Patel.
BJP's Chauhan Pravinsinh wins Kalol (Panchmahal) seat against Congress' Parmar Vijaysinh.
Congress's Dabhi Raijibhai wins Kapadvanj seat against BJP's Dabhi Bhulabhai.
BJP's Ahir Gopalbhai wins Anjar seat against Congress's VK Humbal.
Congress' Amit Chavda wins Anklav seat against BJP's Hansakuvarba Raj.
Congress' Paresh Dhanani wins Amreli seat against BJP's Bavkubhai Undhad.
BJP's Ishwarbhai Parmar wins Bardoli seat against Congress' Tarunkumar Vaghela.
BJP's Dave Vibhahar wins Bhavnagar East seat against Congress' Rathod Babubhai.
BJP's Jitu Vaghani wins Bhavnagar West seat against Congress' Gohil AjitSinh.
BJP'S Dilipkumar Thakor wins Chanasma seat against Congress' Desai Merajbhai.
Congress' Mohansinh Rathava wins Chota Udaipur seat against BJP's Jashubhai Rathwa.
BJP's Shailesh Sotta wins Dabhoi seat against Congress Patel Chimanbhai.
BJP's Chauhan Kalyansinh wins Dahegam seat against Rathod Bhupendrasinh.
Congress' Gavit Gangajibhai wins Dangs seat against BJP's Patel Rameshbhai.
Congress' Makwana Lavjibhai wins Chotila seat against BJP's Dervaliya Najabhai.
BJP's Patel Hiteshkumar wins Choryasi seat against Congress's Patel Bhagwan.
Congress' Jadeja Mahipatsinh wins Absada seat against BJP's Chhabilbhai Patel.
BJP's Seemaben Akshaykumar Mohile wins Akota seat against Congress' Ranjit Sharadchandra Chavan.
BJP's Parmar Pradipbhai Khanabhai wins Asarwa seat against Congress' Vaghela Kanubhai Atmaram.
Congress' Zala Dhavalsinh Narendrasinh wins Bayad seat against BJP's Chauhan Adesinh Mansinh.
Congress' Kantibhai Sodhaparmar Bhagat wins Anand seat against BJP's Yogesh Patel Bapaji.
Congress' Patel Himmatsinh Prahladsinh wins Bapunagar seat against BJP's Rajput Jagrupsinh Girdansinh.
Congress' Thakor Bharatji Sonaji wins Becharaji seat against BJP's Patel Rajnikant Somabhai.
BJP's Patel Dushyantbhai Rajneekant wins Bharuch seat against Congress' Patel Jayeshbhai Ambalal.
Congress' Anil Joshiyara wins Bhiloda seat against BJP's P C Baranda.
BJP's Acharya Dr. Nimaben Bhaveshbhai wins Bhuj seat against Congress' Chaki Adambhai Budhabhai.
Congress' Parmar Shailesh Manharbhai wins Danilimda seat against BJP's Vaghela Jitendra Umakant.
Congress' Kantibhai Kalabhai Kharadi wins Danta seat against BJP's Kodarvi Maljibhai Narayanbhai.
Congress' Shaikh Gyasuddin Habibuddeen wins Dariapur seat against BJP's Bharat Barot.
Congress' Solanki Naushadji Bhalajibhai wins Dasada seat against BJP 's Ramanlal Ishvarlal Vora.
BJP's Babubhai Jamnadas Patel wins Daskroi seat against Congress' Patel Pankajbhai Chimanbhai.
Bhartiya Tribal Party's Vasava Maheshbhai Chhotubhai wins Dediapada seat against BJP's Vasava Motilal Puniyabhai
BJP's Pandya Shashikant Mahobatram wins Deesa seat against Congress' Govabhai Hamirabhai Rabari.
Congress' Bhuriya Shivabhai Amrabhai wins Deodar seat against BJP's Chauhan Keshaji Shivaji
BJP's Khabad Bachubhai Maganbhai wins Devgadhbaria seat against Congress' Vakhala Bharatsinh Pratapbhai.
Congress' Gohil Rajeshkumar Harjibhai wins Dhandhuka seat against BJP's Dabhi Kalubhai Rupabhai.
BJP's Patel Hasmukhbhai Somabhai wins Amraiwadi seat against Congress' Chauhan Arvindsinh Vishvanathsinh.
Congress' Ajitsinh Parvatsinh Chauhan wins Balasinor seat against BJP's Chauhan Mansinh Kohyabhai.
BJP's Vijay Rupani wins Rajkot West seat against Congress' Indranil Rajguru.
Congress' Patel Nathabhai Hegolabhai wins Dhanera seat against BJP's Desai Mavjibhai Maganbhai.
Congress' J V Kakadiya wins Dhari seat against BJP's Dilip Sanghani.
BJP's Bhupendrasinh Manubha Chudasama wins Dholka seat against Congress' Rathod Ashvinbhai Kamsubhai.
Congress' Lalit Vasoya wins Dhoraji seat against BJP's Patel Haribhai.
Congress' Parsotam Ukabhai Sabariya wins Dhrangadhra seat against BJP's Sonagra Jerambhai Dhanjibhai.
BJP's Shah Rakeshbhai Jasvantlal wins Ellisbridge seat against Congress' Dave Vijaykumar Ratilal.
BJP's Katara Rameshbhai Bhurabhai wins Fatepura seat against Machhar Raghubhai Ditabhai.
Congress' Maru Pravinbhai Tidabhai wins Gadhada seat against BJP's Atmaram Makanbhai Parmar.
BJP's Patel Nareshbhai Maganbhai wins Gandevi seat against Congress' Sureshbhai Maganbhai Halpati.
ALSO READ | Gujarat Elections Results 2017 Live Updates
BJP's Maheshwari Malti Kishor wins Gandhidham seat against Congress' Kishor Gangjibhai Pingol.
Congress' C J Chavda wins Gandhinagar North seat against BJP's Ashokkumar Ranchhodbhai Patel.
BJP's Thakor Shambhuji Chelaji wins Gandhinagar South seat against Govindji Hiraji Solanki.
Congress' Bariya Chandrikaben Chhaganbhai wins Garbada seat against BJP's Bhabhor Mahendrabhai Rameshbhai.
BJP's Nakrani Keshubhai Hirjibhai wins Gariadhar seat against BJP's Kheni Pareshbhai Manjibhai.
BJP's Ishwarsinh Thakorbhai Patel wins Ankleshwar seat against Congress' Anilkumar Chhitubhai Bhagat.
BJP's Rajendrasinh Ranjitsinh Chavda wins Himatnagar seat against Congress' Kamleshkumar Jayantibhai Patel.
BJP's Kanodiya Hitu wins Idar seat against Congress' Manibhai Jethabhai Vaghela.
BJP's R C Patel wins Jalalpore seat against Congress' Parimal Nanubhai Patel.
Congress' Imran Yusufbhai Khedawala wins Jamalpur Khadia seat against BJP's Bhushan Ashok Bhatt.
Congress' Sanjaybhai Jesangbhai Solanki wins Jambusar seat against BJP's Chhatrasinhji Poojabhai Mori.
Congress' Kalariya Chiragbhai Rameshbhai wins Jamjodhpur seat against BJP's Chimanbhai Dharamshibhai Sapariya.
BJP's Jadeja Dharmendrasinh Merubha wins Jamnagar North seat against Congress' Ahir Jivanbhai Karubhai Kumbharvadiya.
Congress' Dharaviya Vallabhbhai Veljibhai wins Jamnagar Rural seat against BJP's Patel Raghavjibhai Hansarajbhai.
BJP's Ranchhodbhai Chanabhai Faldu wins Jamnagar South seat against Congress' Ashok Lal.
Congress' Bavaliya Kunvarjibhai Mohanbhai wins Jasdan seat against BJP's Bharat Khodabhai Boghara.
BJP's Pabubha Virambha Manek wins Dwarka seat against Congress' Ahir Meraman Markhi
BJP's Radadiya Jayeshbhai Vitthalbhai wins Jetpur seat against Congress' Ambaliya Ravibhai Jamanadas.
BJP's Karshanbhai Punjabhai Solanki wins Kadi seat against Congress' Chavda Rameshbhai Maganbhai.
Congress' Musadiya Pravinbhai Narashibhai wins Kalavad (SC) seat against BJP's Ghaiyada Muljibhai Dayabhai.
BJP's V D Zalavadiya wins Kamrej seat against Congress' Ashok (Jiravala).
BJP's Kirtisinh Prabhatsinh Vaghela wins Kankrej seat against Congress' Jalera Dineshji Dharsiji.
Congress' Chaudhari Jitubhai Harjibhai wins Kaprada seat against BJP's Raut Madhubhai Bapubhai.
BJP's Ghoghari Pravinbhai Manjibhai wins Karanj seat against Congress' Bhumbhaliya Bhaveshbhai Govindbhai.
Congress' Akshay Kumar Iswarbhai Patel wins Karjan seat against BJP's Satishbhai Motibhai Patel.
BJP's Vinodbhai Amarshibhai Moradiya wins Katargam seat against Congress' Jignesh Jivani (Mevasa).
BJP's Devabhai Punjabhai Malam wins Keshod seat against Congress' Jayeshkumar Valjibhai Ladani.
Congress' Ahir Vikrambhai Arjanbhai Madam wins Khambhalia seat against BJP's Kalubhai Naranbhai Chavda.
BJP's Maheshkumar Kanaiyalal Raval wins Khambhat seat against Congress' Patel Khushmanbhai Shantilal
Congress' Kotwal Ashvinbhai Laxmanbhai wins Khedbrahma seat against BJP's Ramilaben Bara.
Congress' Rathva Sukhrambhai Hariyabhai wins Jetpur(st) seat against BJP's Rathva Jayantibhai Savajibhai.
BJP's Dabhi Bharatsinhji Shankarji wins Kheralu seat against Independent candidate Desai Mukeshkumar Moghjibhai.
Congress' Mohanlal Malabhai Vala wins Kodinar seat against BJP's Vadher Rambhai Mepabhai.
Nationalist Congress Party's Jadeja Kandhalbhai Sarmanbhai wins Kutiyana seat against BJP's Odedra Lakhamanbhai Bhimabhai.
Congress' Virajibhai Thummar wins Lathi seat against BJP's Gopalbhai (Chamardi).
BJP's Patil Sangitaben Rajendrabhai wins Limbayat seat against Congress' Ravindra Suklal Patil.
Congress' Kolipatel Somabhai Gandalal wins Limbdi seat against BJP's Kiritsinh Jitubha Rana.
BJP's Bhabhor Shaileshbhai Sumanbhai wins Limkheda seat against Congress' Tadvi Maheshbhai Ratansing.
Independent candidate Rathod Ratansinh Magansinh wins Lunawada seat against BJP's Patel Manojkumar Rayajibhai.
BJP's Patel Nitinbhai Ratilal wins Mahesana seat against Congress' Patel Jivabhai Ambalal.
Congress' Indrajitsinh Natvarsinh Parmar wins Mahudha seat against BJP's Bharatsinh Raysingbhai Parmar.
BJP's Dhodiya Mohanbhai Dhanjibhai wins Mahuva(st) seat against Congress' Chaudhari Dr. Tusharbhai Amarsinhbhai.
BJP's Harsh Rameshkumar Sanghavi wins Majura seat against Congress' Kothari Ashok Mohanlal.
Congress' Chavda Jawaharbhai Pethaljibhai wins Manavadar seat against BJP's Nitinkumar (Tinubhai) Valjibhai Fadadu.
BJP's Jadeja Virendrasinh Bahadursinh wins Mandvi seat against Congress' Gohil Shaktisinhji Harichandrasinhji.
Congress' Chaudhari Anandbhai Mohanbhai wins Mandvi(st) seat against BJP's Pravinbhai Merjibhai Chaudhari.
Congress' Vaja Babubhai Kalabhai wins Mangrol seat against BJP's Kargatiya Bhagvanjibhai Lakhabhai.
BJP's Vasava Ganpatsinh Vestabhai wins Mangrol(st) seat against Congress' Vasava Nansingbhai Nandariabhai.
BJP's Patel Sureshbhai Dhanjibhai wins Maninagar seat against Congress' Brahmbhatt Shwetaben Narendrabhai.
BJP's Yogesh Patel wins Manjalpur seat against Congress' Chirag Hanskumar Zaveri.
Congress' Patel Sureshkumar Chaturdas wins Mansa seat against Amitbhai Harisingbhai Chaudhary of BJP
BJP's Kesarisinh Jesangbhai Solanki wins Matar seat against Patel Sanjaybhai Haribhai of Congress
BJP's Chauhan Arjunsinh Udesinh wins Mehmedabad against Gautambhai Ravjibhai Chauhan of Congress
Congress' Thakor Rajendrasinh Shivsinh wins Modasa seat against Parmar Bhikhusinhji Chatursinhji of BJP
Congress' Brijesh Merja wins Morbi seat against Amrutiya Kantilal Shivlal of BJP
Independent candidate Khant Bhupendrasinh Vechatbhai wins Morva Hadaf against Dindor Vikramsinh Ramsinh of BJP
BJP's Desai Pankajbhai Vinubhai(Gotiyo) wins Nadiad seat against Jitendra Suryakantbhai Patel (Azad)of Congress
Congress' Vasava Premsinhbhai Devjibhai wins Nandod seat against Tadvi Shabdasharan Bhailalbhai of BJP
BJP's Kaushikbhai Jamnadas Patel (Kaushik Patel) wins Naranpura against Nitinbhai Kantibhai Patel of Congress
BJP's Thawani Balram Khubchand wins Naroda against Tiwari Omprakash Darogaprasad of Congress
BJP's Piyushbhai Dinkerbhai Desai wins Navsari against Bhavnaben Anilbhai Patel of Congress.
BJP's Jagdish Panchal wins Nikol against Gohil Indravijaysinh of Congress.
Congress' Sunilbhai Ratanjibhai Gamit wins Nizar against BJP's Kantilalbhai Reshmabhai Gamit.
BJP's Patel Mukeshbhai Zinabhai wins Olpad against Congress' Bakrola Yogendrasinh Chandrasinh.
Congress' Thakor Jaspalsinh Mahendrasinh (Padhiyar) wins Padra against BJP's Patel Dineshbhai Balubhai
Congress' Patel Maheshkumar Amrutlal wins Palanpur against BJP's Prajapati Laljibhai Kanjibhai.
BJP's Bariya Bhikhabhai Ravajibhai wins Palitana against Congress' Rathod Pravinbhai Jinabhai.
BJP's Desai Kanubhai Mohanlal wins Pardi against Congress' Bharatbhai Mohanbhai Patel.
Congress' Kiritkumar Chamanlal Patel wins Patan against BJP's Desai Ranchhodbhai Mahijibhai.
Congress' Niranjan Patel wins Petlad against BJP's Chandrakant Dahyabhai Patel.
BJP's Babubhai Bhimabhai Bokhiriya wins Porbandar against Congress' Arjunbhai Devabhai Modhvadiya.
BJP's Parmar Gajendrasinh Udesinh wins Prantij against Congress' Baraiya Mahendrasinh Kacharsinh.
Congress' Alpesh Khodaji Thakor wins Radhanpur against BJP's Solanki Lavingji Muljiji Thakor.
BJP's Arvind Raiyani wins Rajkot East against Congress' Mitul Donga.
BJP's Lakhabhai Sagathiya wins Rajkot Rural against Congress' Vashrambhai Alabhai Sagathiya.
BJP's Govindbhai Patel wins Rajkot South wins against Congress' Dinesh Chovatiya.
138.Congress' Der Amrishbhai Jevabhai wins Rajula against Congress' Solanki Hirabhai Odhavjibhai.
BJP's Rajendra Trivedi 'Rajubhai Vakil' wins Raopura wins against Chandrakant R. Shrivastav 'Bhattubhai'.
Congress' Aarethiya Santokben Bhachubhai wins Rapar against BJP's Pankajbhai Anopchand Maheta.
BJP's Arvidkumar Gandabhai Patel (Dalal) wins Sabarmati against Congress' Jitubhai Patel.
BJP's Kanubhai Karamshibhai Patel wins Sanand against Congress' Dabhi Pushpaben Jorubhai.
BJP's Abhesinh Motabhai Tadvi wins Sankeda against Congress' Bhil Dhirubhai Chunilal.
BJP's Dindor Kuberbhai Mansukhbhai wins Santrampur against Congress' Dambor Gendalbhai Motibhai
Congress' Pratap Dudhat wins Savarkundla against BJP's Kamlesh Rasikbhai Kanani.
BJP's Inamdar Ketanbhai Mahendrabhai wins Savli against Congress' Brahmbhatt Sagar Prakash Koko.
BJP's Jitendra Ratilal Sukhadia (Jitubhai) wins Sayajigunj against Congress' Narendra Ravat.
BJP's Ahir (Bharwad) Jethabhai Ghelabhai wins Shehra against Congress' Chauhan Dushyantsinh Narvatsinh
Congress' Thakor Chandanji Talaji wins Sidhpur against BJP's Jaynarayan Vyas.
Congress' Punambhai Madhabhai Parmar wins Sojitra against BJP's Patel Vipulkumar Vinubhai.
Congress' Chudasama Vimalbhai Kanabhai wins Somnath against BJP's Jashabhai Banabhai Barad.
BJP's Arvind Shantilal Rana wins Surat East against BJP's Bharucha Nitinkumar Thakordas.
BJP's Balar Kantibhai Himmatbhai wins Surat North against Congress' Kachhadiya Dineshbhai Manubhai.
BJP's Purnesh Modi wins Surat West against Congress' Patel Iqbal Daud.
Congress' Kanubhai Mathurabhai Baraiya wins Talaja against Chauhan Gautambhai Gopabhai.
Congress' Ahir Bhagabhai Dhanabhai Barad wins Talala agianst BJP's Parmar Govindbhai Varjangbhai.
Congress' Kagathara Lalitbhai wins Tankara against BJP's Raghavjibhai Jivarajbhai Gadara.
BJP's Kakadiya Vallabhbhai Gobarbhai Thakkarbapa Nagar wins against Congress' Babubhai Mavjibhai Mangukiya.
BJP's Patel Parbatbhai Savabhai wins Tharad against Congress' Rajput Damraji Devjibhai.
Congress' Kantibhai Shabhaibhai Parmar wins Thasra against BJP's Ramsinh Parmar.
Congress' Anantkumar Hasmukhbhai Patel wins Vansda against BJP's Mahla Ganpatbhai Ulukbhai
BJP's Kishor Kanani (Kumar) wins Varachha Road against Congress' Gajera Dhirubhai Haribhai.
BJP's Pradipsinh Bhagvatsinh Jadeja wins Vatva against Congress' Patel Bipinchandra Rugnathbhai (Bipinkaka)
Congress' Thakor Geniben Nagaji wins Vav against BJP's Chaudhary Shankarbhai Lagdhirbhai
BJP's Chauhan Kishor Babulal wins Vejalpur against BJP's Shah Mihirbhai Subodhbhai.
BJP's Patel Ramanbhai Dhulabhai wins Vijapur against Congress' Patel Nathabhai Prabhudas.
Congress' Bharwad Lakhabhai Bhikhabhai wins Viramgam against BJP's Tejshriben Dilipkumar Patel.
Congress' Ribadiya Harshadkumar Madhavajibhai wins Visavadar against BJP's Patel Kirit Balubhai.
BJP's Patel Rushikesh Ganeshbhai wins Visnagar against Congress' Patel Mahendrakumar S.
170 Congress' Gamit Punabhai Dhedhabhai wins Vyara against BJP's Chaudhari Arvindbhai Rumsibhai.
BJP's Dhanjibhai Patel wins Wadhwan against Congress' Patel Mohanbhai Dahyabhai.
Congress' Pirzada Mahamadjavid Abdulmutalib wins Wankaner against BJP's Jitendra Kantilal Somani.
BJP's Patel Vivek Narottambhai wins Udhna against Congress' Patel Satishbhai Champakbhai.
BJP's Patkar Ramanlal Nanubhai wins Umbergaon against Congress' Patel Mohanbhai Ashokbhai.
BJP's Govindbhai Raijibhai Parmar wins Umreth against Congress' Kapilaben Gopalsinh Chavda.
Congress' Vansh Punjabhai Bhimabhai wins Una against BJP's Haribhai Boghabhai Solanki.
Congress' Asha Patel wins Unjha against BJP's Patel Narayanbhai Lalludas.
Independent Candidate Jignesh Natvarlal Mevani wins Vadgam against BJP's Chakravarti Vijaykumar Harkhabhai
BJP's Manisha Vakil wins Vadodara City against Congress' Anil Parmar.
BJP's Shrivastav Madhubhai Babubhai wins Vaghodia against Congress' Vaghela Dharmendrasingh Ranubha (Bapu)
BJP's Arunsinh Ajitsinh Rana wins Vagra against Congress' Patel Sulemanbhai Musabhai.